American Kitsune: A Fox's Love Coming Soon (and Some Thoughts)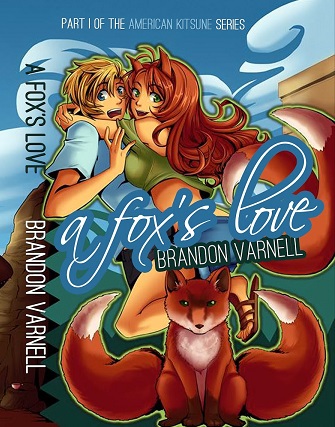 American Kitsune: A Fox's Love is an upcoming Western novel series written by Brandon Varnell. The story is about a high school boy named Kevin who somehow encountered and met a female Kitsune (a fox shape-shifting humanoid) named Lilian. Part one will be released on March 15, 2014 and once out, the book will be available for sale on Amazon as paperback or eBook.
So the author provided me a sample of the novel (meaning I got to read some of the introduction chapters before the release) and I thought that the novel was quite interesting. There are some references relating to anime/manga, video games and Western TV shows (but that shouldn't really bother you if you didn't see or heard of any them). Also surprisingly, the author made himself a narrator and did a bunch of humorous things since the first chapter. As for the characters so far, their personalities are nice and would be something you'll probably see in anime/manga. In conclusion besides not spoiling, the book is overall nice and I recommend you buy it once it gets out especially if you're an anime or manga fan. You can check out the official novel Facebook page for updates.
Facebook:
https://www.facebook.com/AmericanKitsune
Note: The author contacted me to promote his novel and gave me a payment which is a free copy of the novel once released besides the sample. Release date is predicted by the author.
Related Entries